Livable housing designs
Home designs
As architects with many years in business designing, documenting and constructing livable housing solutions for Social Housing providers as well as private clients, we are highly specialised professionals and our services are available to you in the arduous process that is building procurement. We don't just prepare your plans, but that is some of what we can do for you. Indeed, many of our repeat clients are practising architect firms looking for peer review to satisfy their quality assurance programs, and improve the approvals processes.
SDA
NDIS SDA Accredited Assessor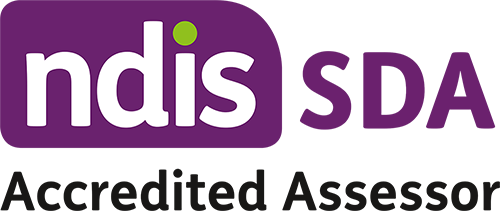 With the introduction of the NDIS, it has become important to meet the Platinum Level for registration of Specialist Disability Accommodation. The NDIS requirements exceed those indicated in the Livable Housing Design Scheme, so we prefer to refer to "Platinum Plus" or "Silver Plus" for SDA design assessments. We have designed and documented in excess of 40 group homes for the NSW Government, and more for the private and NGO sector. We are Accredited Livable Housing Design Assessors to assist developments of SDA and home modifications under the NDIS and My Aged Care. Because of our ageing population, we are passionate about the prospect of modifying existing homes so that owners can "age in place" with home care, without relocating to a nursing home if possible.
Be careful who you rely on for information. Notoriously, the internet is filled with "fake news". The Federal Government established SDA Rules 2016 (Compiled 27/03/19) to control the process. However, much of the detail of the rules applying to SDA are concealed on the NDIS web site, particularly, in the 2019/20 SDA Price Guide, the 2019/20 SDA Pricing Calculator (xls file) and on the SDA Pricing and Payments pages. There is also a useful resource in the SDA Innovation Plan and in the SDA Registration information page.
I February 2020 the NDIS released the SDA Design Standards which will take immediate effect but are enforceable from July 2021. SDA that is not already registered before that deadline must comply with the SDA Design Standards. I will try and keep these links to the NDIS site up to date, though it is always safer to check the NDIS site directly.
Accredited SDA Assessor, or SDA Design Services
SEPP 65
Any development of multi-housing required to meet the SEPP 65 needs to incorporate Universal Housing Solutions and comply with the BCA for Class 2 or mixed-use development. We have accredited access consultants and accredited Livable Housing design Assessors to assist SEPP 65 developments to meet their obligations, by auditing the designs prior to construction and certifying the building for its potential for compliance with the access obligations upon completion.
AS 4299
The Adaptable Housing Standard is often adopted by local government to provide housing which seeks to meet the needs of an ageing population. developers are often tasked with the opportunity to include AS 4299 compliant dwellings within new multi-dwelling developments. Our role is to audit the design documents and certify the compliance on completion, as Accredited access Consultants.
What is Livable Housing Design?
Livable Housing designs are designs that incorporate disability access solutions so that a family can age in place and cater for unplanned events. These solutions provide for great practicalities in circumstances where you may appreciate no immediate need for "access for the disabled". I can assure you that these come with little or no extra construction cost.
By using an access architect, best practice solutions are tailored specifically for your family and current circumstances, taking into consideration your own dreams and aspirations into the future. 
That said, however, it is possible to outline a number of key principles that enable a livable design and these are well-founded on the Australian way of life.
---
Key Livable Housing Design inclusions
---
 In brief, these are:
Access to your home from the street is made without steps on a stable surface. Going to the letterbox and putting the garbage out on the darkest of nights can be achieved without waking your neighbours.
Your entry doorway has no steps and is wide enough to fit your largest friend waiting undercover while you answer the door.
Internal corridors are wide enough to push one of those double prams for your twin grandchildren, and internal doors and doorways enable you to turn the handle and enter, carrying those bags of groceries or a basket of washing without scuffing your walls.
You ought to have a toilet which is located on the ground floor of your home in a space large enough to allow the help of an assistant, should you or a family member ever need it in unforeseeable circumstances, such as pregnancy, sports injury, work injury, illness or even terrible hangover.
Similarly you ought to consider a shower which is located on the ground floor of your home in a space large enough to allow the help of an assistant, should you or a family member ever need it in unforeseeable circumstances. The shower ought not to have any steps and the shower cubicle, for practicality, ought to have circulation areas generous enough to help prevent injury should you slip or faint.
If you reinforce your shower and toilet walls, this enables you to adequately fix, at a later date, grab rails, additional towel rails, shower seats, soap holders, footrests or whatever you desire or require.
Internal stairways should be wide enough for two people to pass and have an adequate handrail on at least one side to help you traverse the stairs safely, in the dark.
Your kitchen space should have adequate circulation so that at least a few of your nosey chef friends can get in there and feel needed, without really getting in your way.
Similarly, your laundry space needs adequate circulation space to turn around without tripping over the washing basket or clothes your child has left on the floor.
At least one bedroom on the ground floor ought to be provided in the event that you or a family member is unable to travel up a flight of stairs. It's good practice that this be of adequate proportions to accommodate your grandparents or a visiting couple of friends.
Switches and power points should be easy to operate and at a height that can be reached by a person with height challenges.
Door and tap hardware should be lever-action type so that you can operate them with one arm full of wriggling infant and still have an injured hand.
The family and living room space should allow sufficient space for dancing. It's becoming a lost art and yet is so very good for your health and well being.
Your window sills should be low enough to let you see the world outside while sitting in a comfy lounge.
Your flooring should not be slippery even when a glass of wine is spilled upon it. It should be firm enough so that stilettos do not puncture it and allow you to move furniture without leaving visible furniture indents. You ought to avoid trip hazards at changes in finishes by providing smooth level transitions.
If you incorporate all of these elements with due regard to the relevant Australian standards for access, your home will incidentally be suitable for purchase by a person with a disability and you will no doubt increase its potential value looking forward to a population of Australians who are aging.
If you would like a fee proposal for planning and getting this right, we are just a call away.
(02) 95863111
For the Federal Government "Livable Design Guidelines" visit http://livablehousingaustralia.org.au
Sydney Access Consultants ©